KOOI-Reachforks, Case study
Ann Summers standardises distribution
One of the biggest success stories in British retailing, Ann Summers, has standardised its operation using Atlet warehouse trucks for its storage, handling and distribution operations which has resulted in smoother operation, efficiency and reduced overall costs.
Order picking and fulfilment operations have been consolidated at the company's head office distribution centre while bulk storage is handled from a new warehouse with double deep storage to make better use of available space.
"Atlet has given us the ability to run smoothly with great continuity to pick and replenish," says Colin Burman, Senior Executive – Logistics at Ann Summers. "Our operations are lean but we need to keep them running – it's fundamental to our business."
For over 30 years, privately-owned Ann Summers has been the high street's leading pleasure retailer. It has become a shopping destination for millions of customers seeking lingerie and other items. Uniquely for a retailer with a high street presence, the company has successful mail order, internet and party plan operations that all contribute significantly to turnover exceeding £150 million. There are over 132 high street stores and 7500 party organisers and the internet business is growing rapidly.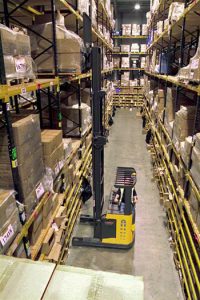 The company relocated most of its operations to a purpose built head office and distribution facility in Whyteleafe, Surrey a few years ago but retained a pick and pack facility at its original site nearby, known as Gadoline House. Continued growth was putting pressure on both sites and it was clear that Gadoline House could no longer cope. Transferring everything to Whyteleaf was not practical because of space limitations although the company recognised that it could use the available space more effectively and increase efficiency and throughput by consolidating all picking operations.
"We were at the point where we could add no more to the cube space," says Colin Burman. "Double deep was very cost effective but we wanted the best trucks."
As the business had grown, the warehouse trucks had been purchased from a number of manufacturers. It was becoming increasingly difficult to manage these trucks and maintain the required levels of performance. In addition to requiring new trucks for the double deep operation the company decided to replace the entire fleet with modern equipment. It approached a number of potential suppliers, including Atlet.
"We wanted the right equipment for the job; it was not a cost-saving exercise," says Colin Burman. "We needed good kit and good backup to deliver the business continuity."
Atlet was able to demonstrate an understanding of the overall business requirement and experience in delivering solutions for similar operations. The company took a group from Ann Summers, including some operators, to visit other customers who were using double deep reach trucks to signify the benefit of the brand. Atlet then worked closely with Ann Summers to ensure a smooth transition with the final truck delivered in December 2007. Each truck was delivered on a specified date to ensure there was no disruption to ongoing operations. Training was also arranged for warehouse staff.
"We aim for perfection," says Colin Burman, "Good racking, a good team and a good concept leads to good results. With double deep we can store more product in a smaller area and so keep costs down while increasing the stock holding. Our warehouse at Paddock Wood has potential for 20 per cent growth but it has also helped us to reduce costs and improved cost control by around 20 per cent."
Items are forwarded to Whytleafe as required, either bulk-picked with the reach trucks or in smaller batches with the order picker. This system allows Ann Summers to maintain the overall distribution operation without using valuable space at Whyteleaf for long-term storage. The business relies on the ability to fulfil orders overnight and the warehouse and distribution operations had to be able to support efficient picking.
As part of its re-organisation Ann Summers rationalised operations at Whyteleaf with order assembly on one floor, high density storage on another and the third dedicated to processing returns so that items are made available for picking more quickly. Working in the high density storage area with racking up to 9m high, the reach trucks are used for general pallet handling and replenishment tasks with order picking from the higher storage levels completed using the man-rising truck.
Ann Summers sets very high standards and targets for its operations. Internet and party plan orders are placed in real time and the company aims to deliver within 24 or 48 hours which demands total stock availability of its 4500 SKUs. In practice, around 94 per cent of internet orders are delivered next day if ordered before 4pm and 100 per cent of party plan orders are delivered next day if ordered by 2pm.
"Business continuity is key because customers can easily go elsewhere," says Colin Burman. "We realised we couldn't go on like we were so we did something about it."
Atlet proposed its 'Gold Service' to help ensure the best possible levels of truck availability by resolving issues before they impact on the operation. The service covers all aspects of truck maintenance, excluding accidental damage and tyres, and provides Ann Summers with rapid response to any emergency downtime.
One of the features that Ann Summers found useful was the onboard computer that allows the performance of the trucks to be controlled. Although the drivers received full training they were unfamiliar with the new trucks at first.
"The trucks were well received by our operators," says Colin Burman.
This busy operation runs six days a week to ensure deliveries are made on time. In addition to fulfilling the internet, mail order and party organiser orders, the warehouse also makes deliveries to each high street store at least once a week and more frequently for the busiest shops. The operation also has to be able to cope with significant seasonal peaks at Christmas, Valentine's Day and when the new catalogues are issued twice a year.