Handling tires with the use of RollerForks®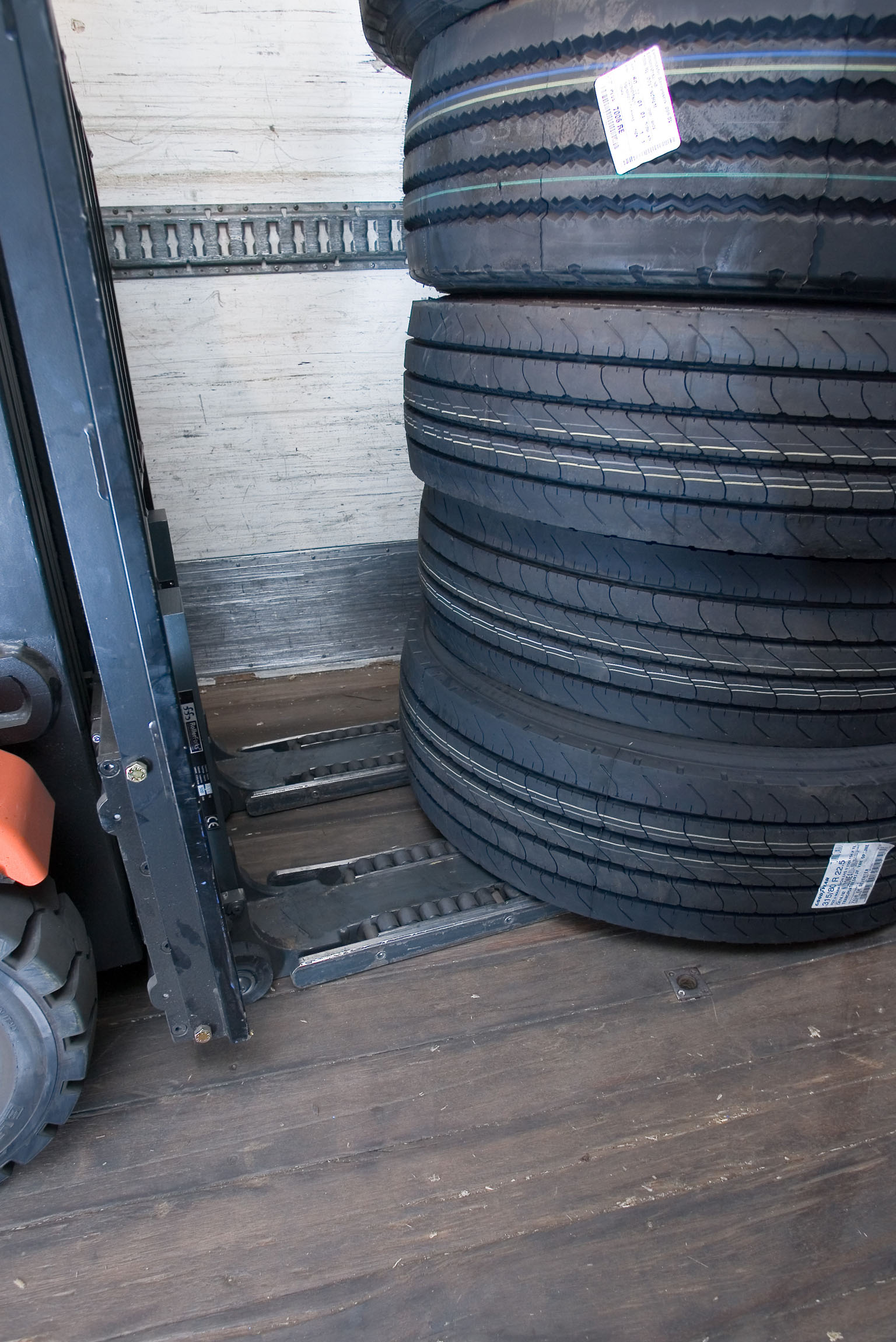 Anyone who works with rolling material daily, choose logically for a rolling solution, as well. Logistics Service Provider BT Trans of Arnhem (The Netherlands) has chosen to pack its heavy-duty truck tires with RollerForks. This saves the company not only difficult lifting and carrying, but is also safer and more efficient.
Every night is rush hour in the warehouse of BT Trans in Arnhem. Huge numbers of tires come and just as quickly go in the wee hours from the transfer point in the provincial capital. "As part of Parts Express, we handle this portion of the distribution to the various car dealerships and car companies throughout the Netherlands," explains coordinator Wout Karsijns of BT Trans. "The number of tires varies, but usually ranges between 2,000 and 3,000."
When it involves tires for passenger vehicles, the nightly turnover is fairly routine. The tires come into the warehouse stacked in racks on pallets and are unloaded quickly and efficiently with the forklift. For trucks and heavy 4×4 tires, however, that is a whole other story. Those are stacked or lying scattered around the truck. "We have to first put a block under them to get them on the fork," Karsijns continues. "If you then had it on the fork and brought it to the warehouse, you then had to deal with the next question: How do you get it off again? While loading, we face the same question once again. Turning the tire and placing it on the pallet was an option, but that is not as simple as you might think, because some tires weigh more than 150 kg (300 lbs.)."
For this reason, BT Trans contemplated purchasing a rolling clamp with which to pick up the heavy rubber. This option had two clear downsides: A serious investment price for a transport system that could only be used to that specific function. Wout Karsijns: "Heavy tires make up less than ten percent of our overall turnover. For such a small percentage you'd rather not have a forklift stand idle for 90 percent of the time."
In a trade journal, Karsijns read about RollerForks and became interested in the system. Shortly thereafter, when RollerForks once again came up in a conversation during meetings with Toyota Material Handling Netherlands, the purchase was soon made. "We needed extra trucks in any case and Toyota also liked the idea of its application with heavy tires," Karsijns says. "In less than a week, we had a test lift in-house to practice with. The guys got the hang of it in no time. This was a really good solution to our problem. Thanks in part to the professional attitude of Toyota, the right advice, and an attractive price, the deal was made in no time."
To expand its fleet, Toyota Material Handling Netherlands delivered two electric pallet trucks, a hand pallet truck with weighing system and printer, and a compact BT Cargo C3R 150 with RollerForks. This useful aid for pallet-less transportation rolls easily under heavy tires, and unloading too is a piece of cake. Just lower the fork to the ground and back up. It's just as easy as it sounds.
Wout Karsijns: "The best part is that we can use the truck with RollerForks for pallets too. The system is practically maintenance-free and requires no extra energy or connections to the truck. For us, it is a real relief."