How Lipton is saving the environment by implementing the RollerForks®
A forklift truck disappears into the gloom at the back of a storage container, betraying no indication of its movements except for the whirring and hissing of hydraulics. It emerges again into the glaring sunlight, the driver obscured behind a towering stack of brown bags carrying loose tea.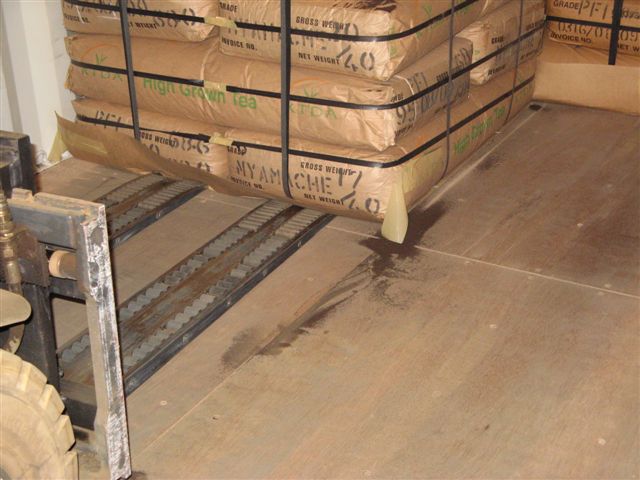 It is a scene like any other. The only noticeable difference is that instead of being carried on a wooden pallet, the 1.5 tonne load is borne on a simple sheet of cardboard.
This humble tool is a slipsheet – a cost-saving device that is increasingly being used by logistics firms to stack goods higher in shipping containers.
Pioneering its use in the Middle East is Unilever, for its Lipton tea brand. The company switched to using slipsheets for its Assam to Dubai shipping routes two years ago and after racking up annual savings of US$100,000, hasn't looked back since.
"Not only will it save you the cost of a pallet but it will allow you to put more in a container," says Tim Drury, vice president of supply chain, Unilever North Africa and Middle East. "This allows a company to put less containers through. Once that starts to happen you are firstly reducing the environmental impact from that container movement, but you're also saving yourself 10-15% of your transport costs."
The scheme largely comes cloaked in the language of environmentalism that Unilever has adopted since it outlined a set of eco-friendly guidelines in 2002. The regional facility in Jebel Ali Free Zone has not been excluded from this. Waste water recycled from toilets and hand-washing is used to spray the lawns. "Don't walk on the grass," jokes Drury. A building management system will be implemented to ensure that air conditioning systems and lights will cut out when the last person leaves the building at night.
Similarly, at the company's tea plantations in India, Kenya and Indonesia, sustainable agriculture initiatives have been implemented. For instance in Kenya, eucalyptus trees are planted to replace the trees that are burned in the process of transforming green tea leaves into black powder.
"For the processing of the tea we are using wood that is regrown in and around the location," says Drury. "We are the biggest buyer of black tea anywhere in the world so we have to be quite careful in how we buy the product and who we buy it from."
In order to underline the level of commitment to the environment, the company aimed to gain certification from the Rainforest Alliance for its sourcing operations for both the Lipton and PG Tips brands.
Moving away from using wooden pallets is also a part of that. The company buys 300,000 tonnes of tea – around 12% of that sold worldwide every year. Every 1.5 tonne of tea arrives on its own wooden pallet, meaning that prior to using slipsheets the company received in the region of 200,000 pallets a year.
However, many of these pallets adhere to British, rather than EU specifications, meaning that the unusual shape would make them unusable in any other industry.
"Because they are a bit of an odd-shaped pallet, most of those can't be re-used," says Drury. "If they are not a good manufacturer they will be thrown away. If they are a good manufacturer, they will recycle it, but it is better that they did not have it in the first place."
Therefore the company began initial trials three years ago with slipsheets on its Assam to Dubai route.
"We started with one of our big Indian suppliers to bring the tea in on a large cardboard sheet. The way it works is you put the sacks on the cardboard and a special attachment on the truck picks up two bits of it, slides it onto a forklift plate and puts it into the container. When transporting tea, you are rarely restricted by weight limit. Often the only limit is volume – you can't get any more in. By dropping the pallet size down you can slide a couple more sacks on top. So if you're in a 10-stack and you fit an extra two sacks in, it means you have saved 10%.
"On 10,000 tonnes of tea that works out in the region of $100,000 we are saving. It pays for itself in months – fractions of a year."
Drury says the company now uses slipsheets on almost 100% of its deliveries from India. "We had one big supplier of teas to us in the Assam area – it's a very big estate," he adds.
"He was interested in working with us on it, so he put the equipment in at his end. They are quite proactive; they've moved away from lorry shipments to the port because there is a train and they believe the train is more environmentally friendly."
Due to the success of the model in Assam, Unilever is also trialling the use of slipsheets on its routes from Kenya.
"Slipsheets are in use in different parts of the logistics world but they are very under-utilised," says Drury. "If you've got a closed supply chain and you have one supplier going to another location, you can put the handling equipment for the slipsheets in at either end."
"If you are sourcing from lots of little suppliers, putting the handling units in all of them can be quite difficult. In Kenya we have quite a few different locations that supply for an auction in Mombasa. From that auction the teas then get moved to a consolidator. When that happens all we need to do is move it from a pallet to a slipsheet, put it into a container and ship it out to Jebel Ali," Drury continues.
"We give the pallet back to the tea community in Kenya, probably back to that same supplier, who will then take a lorry load of pallets back up to the gardens. That's basically where we are at the moment, just doing some trials."
Upon arrival in the Jebel Ali port facility, the slipsheets are slid onto a pallet and then stored until they are required by the high-tech tea-bag-making factory nearby.
The storage facility maintained by Al-Futtaim on a 3PL basis has racking 11 metres high where towers of heavy bags filled with tea stretch precariously toward the ceiling. Doing away with pallets brought in from outside has also improved the safety aspect of the warehouse, says Drury.
"Most good suppliers would treat the pallets to prevent infestation. Most of them don't," he adds warily. "When a pallet is infested with a species of small insect it can affect its stability."
"Now that we have done away with pallets coming in from outside we are able to maintain a stock of high-quality, stable pallets. Still, forklift drivers have to check their stability. Otherwise when they are lifted up 11 metres it poses a unique danger. These loads weigh a tonne and a half – it will kill someone if they should be standing underneath it if it collapses."
In terms of handling equipment, slipsheets require special "push-pull" attachments to fork-lifts. However these can be quite expensive and the hydraulics sometimes break down.
Despite this, companies such as Dubai-based Al Thika have started marketing designs such as the new "RollerForks®" model to slide slipsheets onto pallets.
However the cost of such equipment is minimal, says Drury, compared to the investment in time required to convince people of the viability of slipsheets.
"It needs a bit of convincing of people because it is quite a strange concept to think you can move a tonne and a half of something around on a piece of cardboard, but it works," he adds. "It's just about getting people over that mental block."
"The other mental block comes because people do not know how to use the handling equipment. That is the main hurdle that we are facing – training guys at either end to use it."
He adds that another problem lies in changing the whole blending process. At present, teas are blended in quantities that come on a single pallet. By changing the quantity of a variety of tea on one pallet, you alter the quantity of one ingredient in the blend.
However, Drury says that this is an issue that blenders are getting used to and have learned to accommodate.
As far as Drury is concerned, the cost effectiveness of this simple new product easily outweighs the problems that were initially associated with the shift away from the standard wooden pallet.
"Originally, this really was because of the environmental concerns we had for India and Kenya with the issues over wood and environmental change," he says.
"But with the current fuel prices we've realised that is now saving us a lot of money. What it was saving us a year or so ago is now saving us double that. It's a no-brainer."
Source : www.arabianbusiness.com