Lansing Linde specifies KOOI-REACHFORKS®
Lansing Linde Ltd is a subsidiary of the world leading German based Linde Group, who are the largest manufacturer of materials handling equipment in the world. The ultra modern Basingstoke factory produces a range of electric counterbalance, reach trucks and tow tractors of which over 80% is exported to all the key global markets.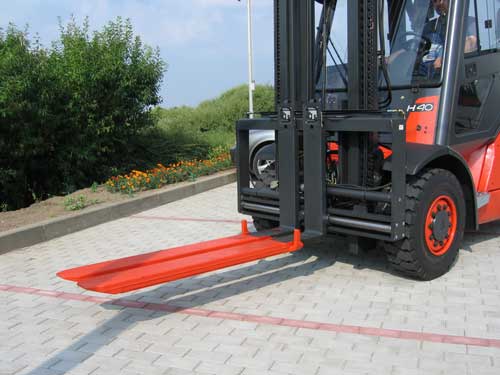 Forklifts are supplied for an extremely wide variety of applications, many of which have specialised needs. Identifying the optimum handling solution for individual client need is therefore a key element in Lansing Linde's evaluation and proposal process.
KOOI-REACHFORKS® forks have been used by Lansing Linde since 1991, primarily on reach trucks. So what benefits do KOOI-REACHFORKS ® offer, and how do these relate to the application assessment process.
"We first utilised KOOI-REACHFORKS® for a double deep application at Freeze West on an R20P 2 tonne reach truck", says Mark Sullivan, Product Support Manager for Lansing Linde. "We looked at what attachments there were available on the market at the time, and after conducting an evaluation process, we determined that the KOOI-REACHFORKS ® best met our needs."
"The market was, at this particular point in time, becoming increasingly interested in the utilisation of double deep racking to maximise and enhance storage capacity. From our own research we had already identified that this type of application was likely to become relevant to various sectors, so we established a criteria for assessing attachments."
There is a legal test requirement for equipment used for double deep applications under an EC Directive and Lansing also required their chosen suppliers to have the appropriate ISO standards. Meijer Handling Solutions, were the first to use two cylinders in each of the forks. The in-built flow control valves ensures that the forks remain in line with each other, which is important when handling various pallet weights, lifting at height, or reaching across a vehicle. These factors, coupled with the results we had obtained from a range of test criteria, enabled us to be sure that the telescopic forks provided the best possible engineering solution for many applications," he continued.
"We have utilised computerised modelling for many years. This process has enabled us to build up a comprehensive data library as to how the telescopic forks operate in a variety of situations where they have performed very well with proven reliability. As the Linde Groups manufacturing plant for the production of electric counterbalance and reach trucks, Lansing Linde at Basingstoke supply handling solutions for an ever widening range of applications. Each client's application is assessed, along with the type of attachment that will provide the optimum solution for the operation's needs
"Our portfolio of clients covers the vast majority of market sectors. We have supplied trucks fitted with KOOI-REACHFORKS® from as far afield as Australia to Egypt, the Far and Middle East as well as many countries within Central and Eastern Europe. Export orders include those of frozen food manufacturers, where the trucks and attachments have had to operate at minus 30 degrees celsius. Other export market sectors include ambient food and non food manufacturers, to Coca-Cola Bottlers, Unilever, to Cadbury's."
Meijer Handling Solutions has a world wide service support network this enables us to provide maximum support for clients, wherever they are located. Their UK representative, Abbey Attachments Ltd, technical expertise, service and advice has been well demonstrated.
Clients' needs vary considerably from one industry sector to another. Those within the pharmaceutical and chemical sectors have differing criteria's compared to those within the food and beverage industries for example.
"The nature of our clients' respective businesses within the pharmaceutical, defence, chemical and hazardous product sectors require that the trucks, like the telescopic forks, meet a range of criteria's specifically relevant to them. Besides hygiene, and health and safety issues, we have to supply products that are suitable for these specific environments," Sullivan added.
"In these particular sectors the telescopic forks are clad in stainless steel. This ensures computability with the hygiene requirements of pharmaceutical environments, and in the case of chemicals, eliminates the potential for spark generation. KOOI-REACHFORKS ® have also been supplied with a brass covering which eliminates the potential risk for explosion in hazardous environments."
What about other applications?
"Our clients also include those within the third party logistics sector, many of whom operate large central distribution centres, primarily on behalf of many of the world's leading brand producers," responded Sullivan. "Others include those within the national newspaper industry. All of their requirements and expectations, not only for the trucks but also the attachments are equally demanding. Operating 24 hours a day, 7 days a week, throughput time is invariably critical".
Lansing Linde have over 50 years experience in the design and manufacturing of fork lift trucks, during which time they have earned an enviable reputation. "We are totally 'market driven' and innovative, technically excellent products which help us to often exceed our customers' expectations are an important element of our success. Which is why we select our long term attachment supplier partners, such as Meijer Handling Solutions very carefully." concludes Sullivan.