More functionality for Telehandlers with KOOI® attachments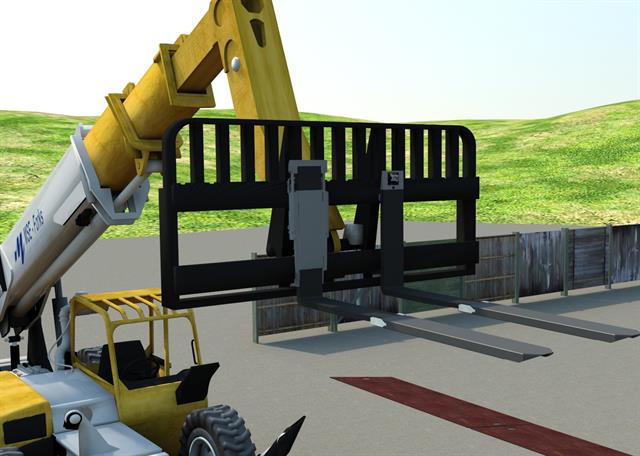 Hydraulic telescopic KOOI-REACHFORKS® can be added to Telehandler type trucks in order to enhance operational ability. The forks allow horizontal fork movement so goods can be placed safely within structures on job sites or double-deep to save time. The Single-Height Shift System allows a single fork to vertically raise and lower in order to keep the load level when operating over an uneven surface.
HORIZONTAL FORK MOVEMENT
Because of the way Telehandler masts are designed, all movement of the truck's wheels have impact on the forks and their pallet load. The further the mast is extended, the greater the result of movement on the fork/load end of the mast. This is especially critical when operating over uneven surfaces, (which is often the case on most job sites). If the Telehandler's wheels are not positioned on a completely flat surface, instability of the load increases. KOOI-REACHFORKS® can help operators compensate for load instability by allowing the load to be positioned horizontally without the need to drive forward with lift truck for positioning a load.
VERTICAL FORK MOVEMENT
Besides horizontal fork movement, there is also the possibility to add vertical fork movement to ensure safe loading and unloading of goods when driving bumpy areas. This "Single-Height Shift System" attachment allows vertical movement of 100 mm, (4") up and/or down on a single fork to keep loads stable over uneven ground. This system can be used in combination with standard lift truck forks or in combination with hydraulic extendable forks.
AND EXTRA LIFT HEIGHT
The unique mast extension range is designed to adjust the height of a lift-truck mast. This is especially useful if the existing mast does not comply with the requested height. The mast extension enables lift-trucks to be enhanced with an additional lift height. The same lift-truck can then handle pallets at a higher level without a larger load centre being required.