Jonker & Schut B.V. powdered dairy products on RollerForks®
The innovative RollerForks® save space, money and time for Jonker & Schut b.v. The handy forks make it possible to handle a load without using pallets, for loading and unloading. No more clumsy heavy handwork and damage to products, it all belongs to the past!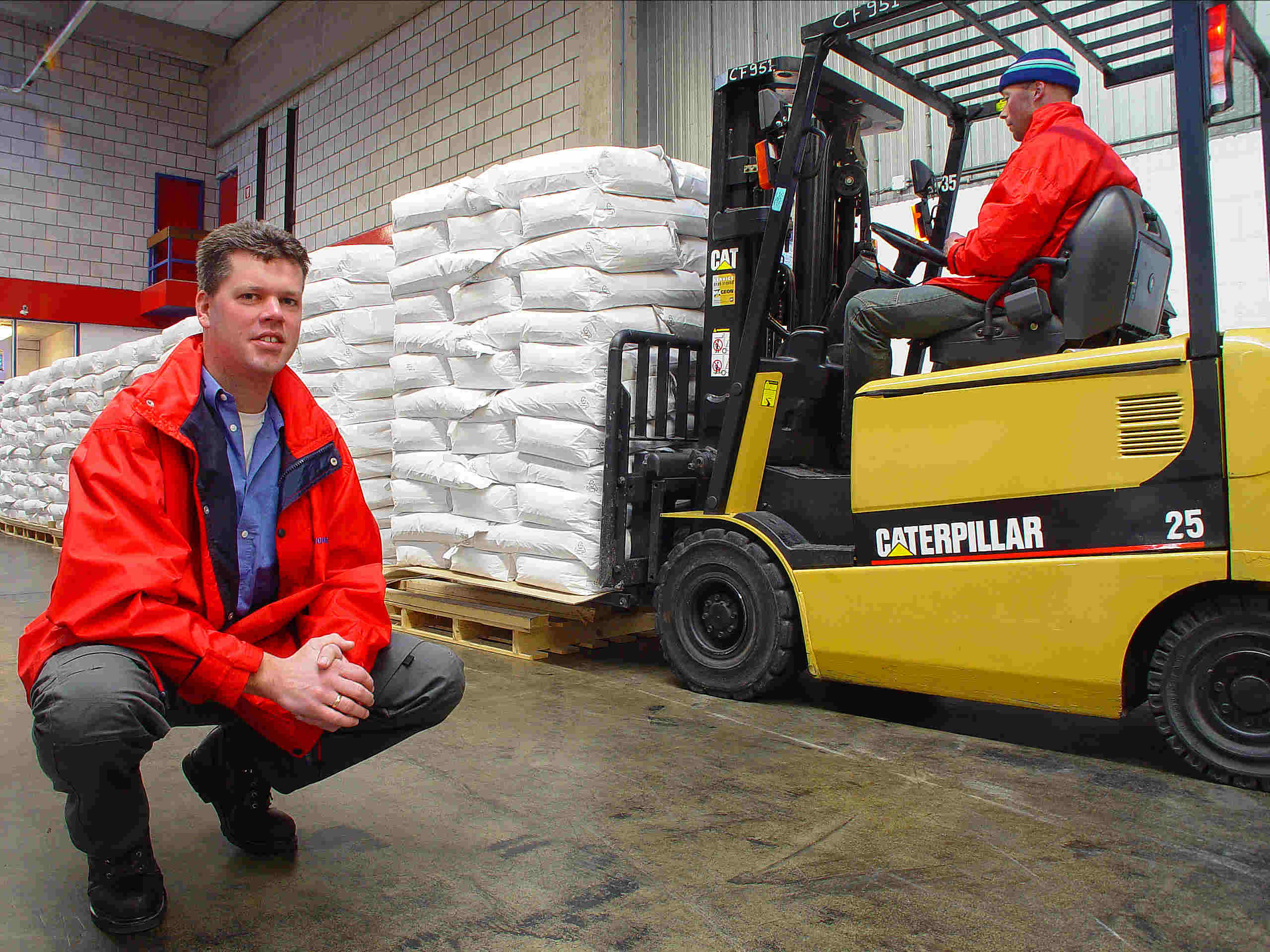 LOADING BAGGED GOODS IN CONTAINERS
Arjo Slotboom, logistics manager at Jonker & Schut bv in Barneveld saw the RollerForks® at the Logistica exhibition in Utrecht and became very interested. "The system appealed to me," he explains. "But I still had some doubts. Would a simple system like the RollerForks® also work for bagged goods which are piled up on pallets?" Jonker & Schut, a powder processor, were at the Logistica fair looking for a solution for loading sea containers. Some of their export is done via 40 containers, between 10 and 15 a week. J&S use special pallets (130cm x 110cm) which do not fit easily into the containers and need to be retained.
" We are able to handle bagged goods in a much more stable way compared with euro pallets (120cm x 80cm) and block pallets (120cm x 100cm), "Arjo Slotboom explains. "Instead of four bags per layer we now use five bags of 25 kg. Ten layers on top of each other create a much better and more solid stack."
LARGE SAVINGS
Changing over to RollerForks®had generated large savings for Jonker & Schut. "We have been using Rollerforks®since March this year, after a successful trial." ends Maurice Beurskens. "The drivers were able to use them straight away and it is a fast way of handling. We reduced handling times by at least 30%. This matters when you have to unload dozens of containers every week. We are also able to do all the work with just one lift truck. The Rollerforks®can be used as standard forks as well. The sound of the rollers reminds me of the good choice we made."
Arjo Slotboom is also happy with the RollerForks®. A lift truck driver can now complete in 30 minutes what used to take an hour. We also had to employ two people to stack the 20 pallets with 50 bags weighing 25 kg each. "Partly because of the tough working conditions, it was difficult to hire suitable employees," Arjo Slotboom concludes. We were not flexible enough to load a container immediately when it was necessary. Now we are able to change from standard forks to a set of indestructible RollerForks®in just two minutes. It truly is a great system."
AWARD-WINNING CONCEPT
Jonker & Schut was informed of the introduction of Meijer Handling Solutions's RollerForks®at the 2003 Logistica Exhibition. It was here that the new product received the Logistica Innovation Award.
Soon afterwards it also won the Innovation Award from the Metal Union. The principle of the RollerForks®is as simple as it is ingenious. Each fork is equipped with 2 layers of rollers that are able to move vertically. But it is the opposite direction of rotation that makes them so special. The lower rollers move over the floor and by doing so make the upper rollers rotate, but in the opposite direction. As a result the load is moved along the forks by the upper rollers. The system has already been shown to work for a variety of loads.
By using the RollerForks® Jonker & Schut is able to:
Handle sea containers with half as many employees.
A one way investment for the RF-Pallets because they will stay always internally.
Because of the RF-Pallets a cheap slip-sheet can be used.
Do the work in half as much time.
Provide better working conditions.
Work more flexibly.